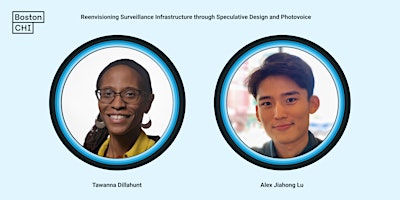 The next BostonCHI meeting is Reenvisioning Surveillance Infrastructure through Design and Photovoice on Tue, Apr 11 at 6:45 PM.
BostonCHI April 2023
Abstract
Moving toward equitable, inclusive, and sustainable futures requires new and evolved approaches to conducting human-computer interaction research.
This requires that we, as academics, practitioners, and policymakers take on more community-engaged approaches to our work and tap into unheard populations who remain voiceless in popular and academic discourses. Such voices offer brilliant insights into technology's potential, ethics, and future.
This study draws from two such cases, one speculative design study and a photovoice study in collaboration with two Detroit community organizations. Through these two cases, we unpack how we engage communities in reenvisioning technological infrastructure, particularly our safety infrastructures. In this talk, we will discuss the theoretical and methodological implications of redesigning and rethinking surveillance infrastructure when considering their voices.
Bio
Tawanna Dillahunt
Tawanna Dillahunt is the 2022–2023 William Bentinck-Smith Fellow at the Harvard Radcliffe Institute and an associate professor at the University of Michigan's School of Information and holds a courtesy appointment with the Electrical Engineering and Computer Science Department. She leads the Social Innovations Group (SIG), an interdisciplinary group of individuals whose vision is to design, build, and enhance technologies to solve real-world problems affecting marginalized groups and individuals primarily in the U.S. Her current projects aim to address unemployment, environmental sustainability, and technical literacy by fostering social and socio-technical capital within these communities. At Radcliffe, she is working to explore and raise the visibility of alternative economic futures for Black and Brown Detroiters.
Tawanna is an ACM Distinguished Member and an inaugural Skip Ellis Early Career Award recipient. She holds an M.S. and Ph.D. in Human-Computer Interaction from Carnegie Mellon University, an M.S. in Computer Science from the Oregon Health and Science University, and a B.S. in Computer Engineering from North Carolina State University. She was also a software engineer in Intel Corporation's Desktop Board and LAN Access Divisions for several years.
Alex Jiahong Lu
Alex Lu is a Ph.D. candidate at the University of Michigan's School of Information. Alex's past work looks into how data-driven surveillance infrastructures come into being and their harms in varied sociopolitical contexts on different scales, particularly policing surveillance in the city of Detroit, behavior management in the classroom setting, and ideology control in China. Working alongside two communities in Eastside Detroit, his dissertation examines the history and imaginaries of surveillance infrastructures in Detroit through an affective lens. Through arts- and community-based participatory approaches, he is working with residents to make their everyday negotiation with surveillance infrastructures visible and envision alternative sociotechnical infrastructures for preferable futures.
Alex holds an MSW degree from the University of Michigan School of Social Work and a B.E. in Information Engineering and Media from Nanyang Technological University in Singapore. Alex worked with Meta's Community Growth Team as a UX researcher intern last summer, and he will be on the job market next year for both academic and industry positions.