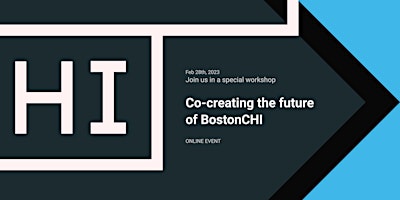 The next BostonCHI meeting is Co-creating the future of BostonCHI on Tue, Feb 28 at 6:45 PM.
BostonCHI Feb 2023
An Invitation
Did you know that BostonCHI has been in continuous operation for over 35 years? The past few years have been markedly different from all the rest, with the move from gathering in person, to gathering online. And now, it's time to change again.
BostonCHI invites you to join us in shaping our journey ahead.
In this online workshop, we'll run through a series of enjoyable interactive activities on a digital whiteboard, to help us answer the question: where will BostonCHI go next?
Schedule – EST (UTC-5)
6:45 – 7:00: introduction
Kick off the meeting with some light intro activities
7:00 – 7:15: the journey up to now
Build up a collaborative journey map of BostonCHI over time
What has worked well during the pandemic years?
What has worked well for in-person events?
7:15 – 7:45: possible futures
Brainstorm where BostonCHI might go next, looking at topics such as:
Future event formats
Potential themes, topics, and speakers for next year's talks
Connecting and growing the community
Member experience
7:45 – 8:00: a look inside the steering committee
Steering themes for the year
Operational updates; how the steering committee is organized
Open roles and opportunities