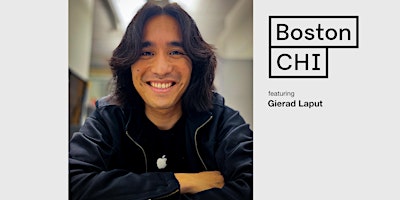 The next BostonCHI meeting is Context-Driven Implicit Interactions on Tue, Apr 12 at 6:45 PM.
BostonCHI April 2022, featuring Gierad Laput
Abstract:
As computing proliferates into everyday life, systems that understand people's context of use are of paramount importance. Regardless of whether the platform is a mobile device, a wearable, or embedded in the environment, context offers an implicit dimension that will become highly important if we are to power more human-centric experiences. In this talk, I discuss the construction and evaluation of sensing technologies that can be practically deployed and yet still greatly enhance contextual awareness, primarily drawing upon sensing and machine learning techniques to unlock a wide range of applications. I'll also discuss some of my team's recent work at Apple, and I conclude with a vision of how rich contextual awareness can enable more powerful experiences across broader domains.
Bio:
Dr. Gierad Laput is a Senior Research and Engineering Manager at Apple, where he leads the Sensing Technologies Group under Machine Learning and AI. His group explores, builds, and ships technologies that aim to make a profound impact on millions of people through research and development in sensing and AI. These include applications in health technologies, context-driven systems, and natural + assistive interactions. Dr. Laput completed his Ph.D. and M.S. in Human-Computer Interaction at Carnegie Mellon University. He is also an Affiliate Faculty at CMU's School of Computer Science.
Homepage: www.gierad.com
Schedule – EST (UTC-5)
6:45 – 7:00: Networking (via Zoom)
7:00 – 8:00: Presentation
8:00 – 8:30: Q & A