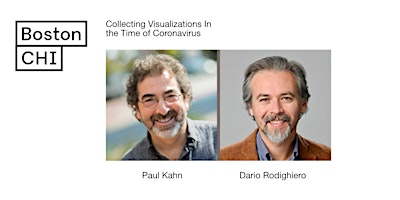 The next BostonCHI meeting is Collecting Visualizations In the Time of Coronavirus on Tue, Feb 8 at 12:00 PM.
BostonCHI Feb 2022, featuring Paul Kahn & Dario Rodighiero
Join Paul and Dario in a special lunchtime seminar on Feb 8th.
Abstract:
What lessons can we learn from the enormous outpouring of online visualizations related to the Covid-19 pandemic?
Please join Paul Kahn and Dario Rodighiero for a presentation of the Covid-19 Online Visualization Collection (COVIC) and the programs developed to view and access the collection. COVIC currently contains more than 10,000 visualizations, a collective response to the pandemic gathered from online sources around the world. We have assembled this collection of animations, interactive visualizations, diagrams, charts, illustrations, and maps, assigning consistent metadata attributes to each item, and published the collection online, along with web-based applications that enable researchers to explore the collection in an open-ended fashion. The goal of the project is to provide a resource for teaching and research. COVIC defines a problem space in a way that does not predict who will be seeking solutions or what solutions will be found.
Bio:
Paul Kahn is a lecturer in the Information Design and Data Visualization program at Northeastern University. He currently leads the COVIC project. He has previously been active in hypertext research and agencies in the US and France offering services in information architecture, interface design, and experience design. Currently he lectures and writes about information design history.
Dario Rodighiero is a postdoc at metaLAB (at) Harvard, currently working at Bibliotheca Hertziana in Rome. He has done numerous visualization projects combining design, data, and humanities. A current project is Surprise Machines, a digital installation that shows Harvard Art Museums' extensive collection through a choreographic interface capable of capturing body gestures.
Schedule – EST (UTC-5)
Please note: this event is at lunchtime (12 noon) in EST.
12:00 – 12:45: Presentation
12:45 – 1:00: Q & A