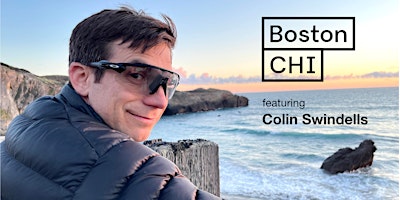 The next BostonCHI meeting is Resolving tough product decisions on Tue, Oct 11 at 6:45 PM.
BostonCHI October 2022, featuring Colin Swindells
Abstract:
Do you ever have difficulty getting to common agreement with colleagues on important work decisions impacting your organization's products? Do you strive for more positive ways to solve disagreements? Do you wish you could have more win-win outcomes?
Colin Swindells will discuss his processes to resolve tough product decisions in user experience teams. Specifically, Colin will share adaptations of leading system thinking management tools that he has refined for contemporary user experience teams in technology organizations ranging in size from startups to multinational corporations.
For more information, please visit https://www.moonrakerinsights.com/
Bio:
Colin Swindells (Moonraker Insights LLC) is a user experience researcher who is currently Principal of a global consulting services company. Colin has led user experience activities for a range of organizations including Apple, BCG, Boeing, BMW, CAE, Dako, Google, Microsoft, Nike and Yara. He also serves on the Maine Institute of Technology's IT Board, reviewing and advising investments into Maine-based tech companies. Colin has a PhD in Computer Science from the University of British Columbia, a BASc in Engineering Science from Simon Fraser University and a professional certification in System Thinking from the Massachusetts Institute of Technology. He has 27 peer-reviewed publications, 11 patents and has led projects on 4 continents.
Schedule – EDT (UTC-4)
6:45 – 7:00: Networking (via Zoom)
7:00 – 8:00: Presentation
8:00 – 8:30: Q & A