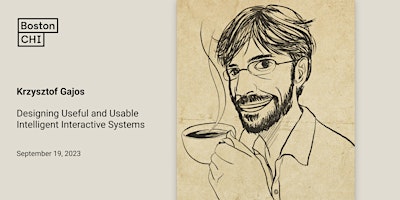 The next BostonCHI meeting is Designing Useful and Usable Intelligent Interactive Systems on Tue, Sep 19 at 6:00 PM.
BostonCHI presents a hybrid talk by Krzysztof Gajos
Abstract
My research is at the intersection of HCI and AI. I design, build and evaluate interactive systems that have some kind of machine intelligence under the hood. I strive to build intelligent interactive systems that are useful, that give people a meaningful sense of control, and whose behavior aligns with the mental models held by their users. This is challenging because the underlying AI technology can be occasionally wrong, it delivers the most value if it is allowed to act proactively at times, and it frequently behaves in unexpected ways.
In the past two decades, the intelligent interactive systems community has made substantial progress in producing useful design knowledge that addresses these challenges and machine intelligence is now present in many real-world interactive systems from nearly invisible (like predictive text helping with mobile text entry), to highly consequential (like AI-powered decision-support systems).
However, there are also some important gaps in our knowledge. In particular, my group has recently conducted a series of studies whose results indicate that some assumptions that I and my community have made along the way do not always hold. For example, adaptive user interfaces require more cognitive effort to operate than we had assumed, predictive text changes the content of what people write instead of just making text entry more efficient, and decision makers presented with AI-generated decision recommendations and explanations rarely engage cognitively with the content of what the AI communicates.
I will describe the studies that led to these insights and reflect on the current state of the knowledge pertaining to the design of usable intelligent interactive systems. I will then share some of our qualitative work on the clinical decision-making practices and, adopting a sociotechnical perspective, point out some unverified assumptions underlying the common choices of what (and whose) problems we solve with AI in clinical settings.
Overall, I believe that we can design useful and usable intelligent interactive systems but the relevant design knowledge is relatively knew and still a work in progress. The contemporary enthusiasm for using machine intelligence in interactive systems is an opportunity to grow our knowledge. It is also a danger in that it creates conditions where following the "best practices" of others, without having the time or opportunity to examine them, can turn unverified assumptions into fundamental principles of our field.
About Krzysztof Gajos
Krzysztof Gajos is a Gordon McKay professor of Computer Science at the Harvard Paulson School of Engineering and Applied Sciences. Krzysztof's current interests include 1. Principles and applications of intelligent interactive systems; 2. Tools and methods for behavioral research at scale (e.g., LabintheWild.org); and 3. Design for equity and social justice. He has also made contributions in the areas of accessible computing, creativity support tools, social computing, and health informatics.
Krzysztof received his Ph.D. from the University of Washington and his M.Eng. and B.Sc. degrees from MIT. He was a postdoctoral researcher at Microsoft Research at the Adaptive Systems and Interaction group. From 2013 to 2016 Krzysztof was a coeditor-in-chief of the ACM Transactions on Interactive Intelligent Systems (ACM TiiS), he was the general chair of ACM UIST 2017, and he was a program co-chair of the 2022 ACM Conference on Intelligent User Interfaces. His work was recognized with a Sloan Fellowship and with best paper awards at ACM CHI, ACM COMPASS, and ACM IUI. In 2019, he received the Most Impactful Paper Award at ACM IUI for his work on automatically generating personalized user interfaces.
Location
This is a hybrid event, to be held at Microsoft New England 1 Memorial Drive, Cambridge MA, and online using Zoom. The Zoom link will be provided to registered attendees ahead of the event.
Notes: this event will not be recorded. If attending in person, please bring a government issued photo I.D. In-person registration will end 48 hours ahead of the event.